Holiday property in Almeria Spain
Property for Holiday Rental
Almeria - Andalucia - Southern Spain
Choose Almeria presents a prime selection of Almeria property for holiday rental.
Working with some of the areas leading estate agents, and advertising owners direct holiday property, to bring the best selection of holiday accommodation from people who live here and know the area best.

Both myself and the local agents here share the same passion,
we love Almeria.
We would like to welcome you to Almeria and aspire to help make your holiday plans become reality...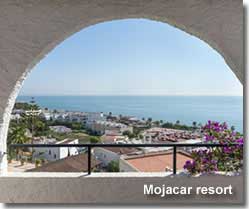 Costa Almeria holiday property
Costa Almeria - uncrowded sandy beaches, traditional Spanish resorts, chiringuito beach bars, an inviting aquamarine sea... Find your dream holiday apartment or holiday villa along this amazing coastline.
Mojacar beach resort is by far one of the most popular holiday destination in Almeria...
Vera beach, a naturist holiday hotspot, offers naturist property, apartments, and villas beside the stunning Vera Playa...
Mojacar pueblo and Mojacar resort

The Levante beaches of Almeria including the beaches of Mojacar and Vera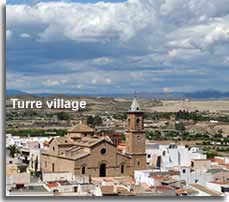 Rural Almeria holiday property
Rural holiday property in Almeria can be found in the mountains and valleys, in typical whitewashed pueblos or countryside hamlets, choose a renovated cortijo or farmhouse and a chance to discover the real Spain...
The Almanzora valley region

Mountain discoveries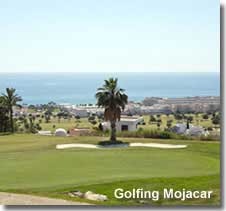 Golf resort holiday property in Almeria
For golfing holidays in Almeria there are 10 golf resorts on offer, with quality holiday accommodation, golf villas, golf apartments...
Golf resorts Almeria

Choose Almeria provides all the information to help you make the most of your holiday in Almeria, with guides to the local tourist attractions, the beaches and mountains, the desert of Tabernas, the Cabo de Gata Natural Park and the Almanzora Valley. There are plenty of ideas for day trips, suggestions for exploring, and details of available outdoor activities.
Finding your dream holiday property in Almeria
Whatever your holiday property prerequisite Choose Almeria has the resources to help you.
Please use the property search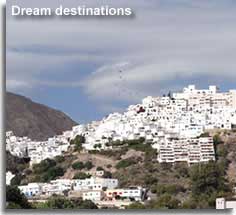 from the left sidebar menu to find your dream holiday property in Almeria, alternatively browse the selction of featured holiday homes on offer.
Featured holiday homes in Almeria


Your dream holiday is waiting for you in Almeria...
If you cannot find just the property you are looking for then please Contact Choose Almeria and send a message with your specific property requirements.
Choose Almeria will forward your request to one or more associated agents who specialise in the type of property that you are seeking.
Please enjoy this guide to Almeria, hope to see you soon...
Why Choose Almeria for holidays

Tourist attractions in Almeria province

Choose Almeria... for holidays... for ever...