Attractions of Almeria Province
Almeria - Andalucia - Southern Spain
An introduction to Choose Almerias recommended list of exciting tourist attractions, astounding places of interest, and breathtaking beauty spots.
Quick links to the tourist attractions of Almeria:
Choose Almeria for excursions and day trips...
For day trips, excursions and sightseeing Almeria would be hard to beat, there are some remarkable and extraordinary destinations here, if Almeria can offer you even half as much pleasure as it has given us during our research travels then we are sure you will be both delighted and amazed, we sincerely hope so.
Almeria attractions, day trips, excursions...
Just being here in Almeria is an attraction in itself, its unassuming beauty is all around, in the mountain landscapes, coastal seascapes, natural parks and nature reserves.
Every village and town is something special, each with its intrinsic history and charm. The village fuente (fountain), the plaza (square), or the iglesia (church), even and especially the local tapas bar - these have unique character and individual characters all of their own!
Almeria City - The Alcazaba & Cathedral...
Almeria city is a lively mix of old and modern with multi cultural influences past and present.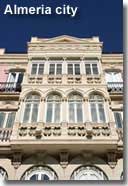 The magnificent Alcazaba fortress overlooks the city offering views of the Barrio de la Chanca, the renowned cave quarter, and of the unusual castle like Cathedral.
There is a sports marina, fishing port and ferry terminal, and an interesting selection of museums and art galleries.
Shops, cafes, restaurants and tapas bars are in abundance...
Almeria city attractions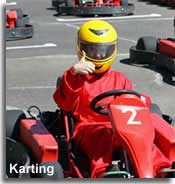 Karting - Almeria
Almeria has some first class karting circuits, offering safe and exciting racing venues on tracks of up to 950m long with plenty of opportunity for overtaking.
An extensive selection of karts for both children and adults are available, including the ultimate Kart Competicion that can go from 0 to 100 kph in six seconds!
A fast paced adrenaline filled trip for all the family...
Karting circuits in Almeria

Gypsum Karst Caves of Sorbas
The Cuevas de Sorbas, a natural wonder of Karst rock formations and a network of caves and underground tunnels with glistening chambers of rock crystals, stalactites and stalagmites.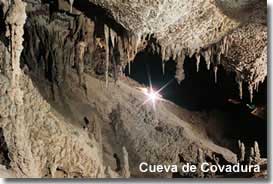 Entrance to some of the caves, and there are over 1,000 cavities recorded, is by descent through an opening or sinkhole in the ground.
Visits are by guided tours, available in four languages including English, with a choice of routes in varying difficulty level classifications starting with the basic route which is suitable for all the family...
Sorbas Caves of Almeria

Water Parks
Roquetas de Mar & Vera Playa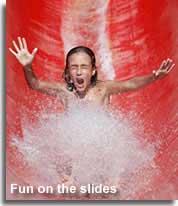 For some family fun in the sun there are two water parks in Almeria province,
Parque Acuatico, Vera Playa,
and Mario Park, Roquetas de Mar.
Swimming pools, slides, wave machines... the Kamikaze! or the Black Hole!...
The Water Parks of Almeria

Parque Acuatico Vera
Mario Park Roquetas de Mar
Mini Hollywood and Tabernas Desert
Mini Hollywood, comprising of Oasys Theme Park, Fort Bravo and Western Leone, three independent sites situated in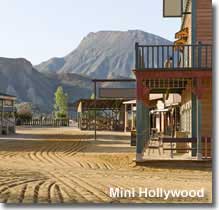 the Tabernas desert offering wild west attractions and a day trip or two never to be forgotten.
Mini Hollywood Almeria

Tabernas desert, an arid area of badlands with a lunar like appearance, is perhaps the most exciting landscape of the province, an astonishing sight to see and an impressive place to visit, it has been used as a film location for many world famous movies.
The ravines and ramblas, host to a surprising amount of bird life with characteristic flora and fauna, offer walking and horse riding opportunities and can include visits to the past movie location spots.
Tabernas Desert attractions

Cabo de Gata - Nijar Natural Park
This wild and wondrous landscape, volcanic in origin, is home to some of Europes most original geological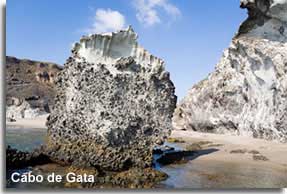 features, its coastline is a formation of steep rugged cliffs and hidden sandy coves.
The acclaimed beaches of Cabo de Gata are said to be some of the most beautiful in the region.
Just off the shores the extensive coral reefs teem with marine life and on land there is much flora and fauna to be appreciated.
A protected natural area with a rich historical heritage, evidence of past cultures can be uncovered in the traditional villages and their surrounding terrain.
The park is a favoured location for every kind of outdoor activity.
Parque Natural Cabo de Gata Almeria

Beaches, Mountains and Valleys
The natural landscapes of Almeria, whether inland or coastal,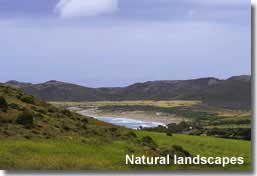 offer exceptional and individual destinations for excursions or day trips.
The beaches, of course, are always popular, what better place to enjoy the Spanish sunshine, and in Almeria, away from the resorts, there are many unspoilt, isolated and often deserted shores to be discovered.
Yet even more stimulating are the magical settings of the mountains and valleys of the region, with traditional villages, endemic flora, wildlife and bird life, historical sites, walking trails, and a wealth of cultural heritage.
The Beaches of Almeria

The Mountain destinations and attractions

The Almanzora valley region

Over the border - Granada Province
Just across the border of Almeria province, in the neighbouring province of Granada, the following attractions are all within easy reach, a trip to each one of them is highly recommended and more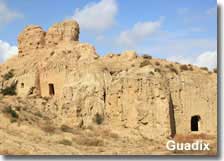 than worth the extra travelling distance.
The Alhambra in Granada City, one of the most visited historical and cultural sites in Andalucia, is only a two and a half hour drive away from Almeria city.
Even closer in distance is the town of Guadix, and its intriguing Troglodyte Cave area, which takes less than one and a half hours to reach from the city of Almeria.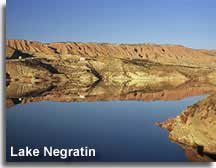 Possibly the least known of these chosen attractions, situated in the Baza area of Granada, are the imposing Mount Jabalcon and the spectacular Lake Negratin. The closest main towns in Almeria being Seron or Chirivel at a driving distance of approximately fifty minutes, with the coastal resorts of Almeria and its city being roughly two hours away.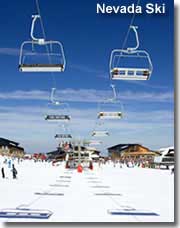 The Sierra Nevada ski resort is an approximate two and a half hour driving distance from Almeria city, outside of the winter ski season the Nevada nature park, of both Granada and Almeria, provides many more incentives to visit.
The Alhambra Granada

Guadix and the Troglodyte caves Granada

Lake Negratin and Mount Jabalcon Granada

Sierra Nevada Ski Resort Granada