Why Choose Almeria Spain?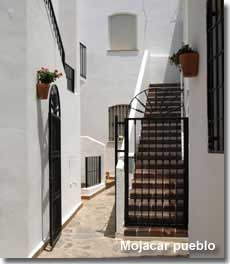 This is the real deal, a true slice of Spain that remains untouched by mass tourism...
Below is just a taster of what is waiting to be discovered in the Almeria region of Andalucia in Southern Spain.
Traditional Villages
Mojacar Pueblo is a charming example of a whitewashed Spanish village, standing proud on a hilltop in the Cabrera mountain foothills and directly overlooking the shimmering Mediterranean sea, the maze of narrow cobbled streets offer new delights at every turn, with quaint village houses, flower decked terraces, old wooden doorways, ancient archways and pretty plazas, not forgetting the enticing trinket shops and welcoming cafe bars and restaurants.
This once Moorish town, steeped in history, surrendered to the Christians in the 15th Century Conquest, each year, in remembrance, a huge celebration is held, with mock battles, elaborate costumes and medieval market stalls, a fabulous occasion not to be missed.
Mojacar pueblo and Mojacar beach resort

Check out more of the villages and towns in Almeria Spain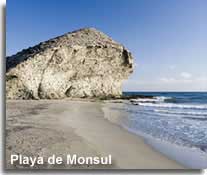 An idyllic coastline
Uncrowded sandy beaches, tranquil bays, sheltered coves, traditional fishing villages and an inviting aquamarine sea.
Ranging from the more touristy resorts of Aguadulce and Roquetas de Mar that perfectly satisfy the fun in the sun holiday maker, to hidden stretches of unspoilt seclusion for those seeking to escape from it all.
Playa Monsul, near San Jose, is a stunning example of a remote natural beach along the unique rugged shoreline of the Cabo de Gata.
Find your perfect spot on the beaches of Almeria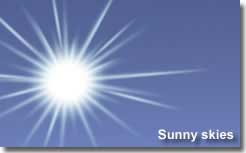 The fabulous climate
There are very few deserts in Europe, however Almeria province is home to one of them, not surprisingly the region enjoys one of the driest and sunniest climates on the continent, with around three hundred and twenty days of sunshine per year and some of the mildest winter temperatures.
Without doubt an attractive destination for year round holidays and full time living.
Realise the unexpected attractions of the desert of Almeria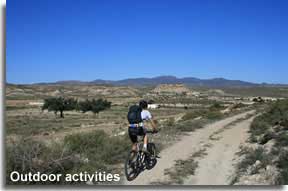 Outdoor activities
Almeria is home to a landscape of dramatic contrasts, which, when combined with the superb climate, lends itself perfectly to the pursuit of outdoor interests and activities.
From the desert ravines of Tabernas to the magnificent mountains and picturesque valleys, the breathtaking locations offer unparalleled opportunities for nature walking, hiking, mountain biking, rock climbing, 4x4 excursions, paragliding...
The winter ski resort of the Sierra Nevada is only a short drive away...
Cabo de Gata, one of Almerias protected Natural Parks, not only provides an exceptional rural environment for numerous outdoor activities, but also attracts nature lovers and bird watching enthusiasts, the saltwater lagoons hosting an amazing selection of bird life...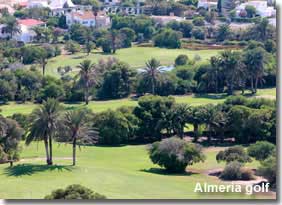 There are plenty of quality courses for golf lovers, and local clubs for bowling, cricket, football, fishing, walking...
Horse riding is covered across the whole of the province with a multitude of riding stables offering horse trekking trips and riding holidays.
The crystal clear waters along the spectacular Mediterranean coastline contribute to the superior scuba diving and snorkelling options, with colourful sea life in abundance, there are many fascinating diving sites to be explored.
Water sports are well catered for with sailing, windsurfing, kitesurfing, kayak and canoeing being the prevalent activities.
The
mountain landscapes
offer unique locations for outdoor recreation

Las Salinas de Cabo de Gata provides unrivalled bird watching possibilities

Almerias golf clubs have distinct settings and top notch courses

Appreciate the scenery on a horse riding trek

Find the locations of the walking trails in Almeria

Enjoy water sports in uncrowded waters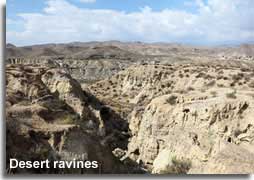 Adventure
Adventure is abound and all around in Almeria Spain
A super destination for adventure holidays of all kinds with energising activities in exciting places and new discoveries to be made in the exhilarating landscapes of the desert, mountains and valleys.
Uncover the secrets of the Sorbas treasure caves

Take a camel trek through the Tabernas desert ravines

Step inside the Majada Redonda volcanic crater on a Cabo de Gata walking trail

Reach heights and highs in Almeria on a tandem paragliding flight

Behold the cave paintings of Los Letreros in the Maria - Velez natural park

History and culture, Almeria Spain
Almeria City, rich in history and dominated by the Alcazaba fortress, exhibits much evidence of past civilizations that once made Almeria their home.
Below ground the part restored civil war tunnels make a sharp contrast to the streets above, where vibrant cafes spill out on to the pavements and stylish shops house the latest fashions.
Add to this, a modern marina and working port, historic monuments, the city cathedral, museums and art galleries... together combining to make a versatile and all round city destination for ambiance, sightseeing and shopping.
Visit the capital City of Almeria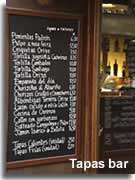 The tapas and coffee bar
A first hand experience of a truly Spanish way of life, the tapas and coffee bar plays a valuable role in the social culture of Almeria. No matter the age group, to meet up at anytime of day or night for coffee and a chat or a drink and a tapa in the local bar is a fundamental everyday occasion.
Tapas are small appetisers or snacks usually served with a glass of beer or wine. A warm welcome awaits you, soak up the atmosphere along with the refreshments, and enjoy.
Choose Almeria... for holidays... for ever...
Almeria Spain, search the Choose-Almeria website for the best properties....
For sale or for rental. A luxury villa with a pool, a beach front apartment, a secluded cortijo, or renovated cave house... whatever your perfect dream home, Almeria has quality builds, new, resale or off plan, and the prices are often considerably less than in some of the more established regions of Spain.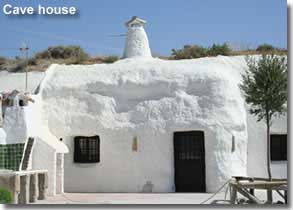 Rural or coastal, town or village, urbanisation or golf resort, for location you will be spoilt for choice.
The Choose Almeria home page showcases featured properties in Almeria, alternatively the advanced property search offers specific property requirement options.
Choose Almeria advertises properties from top estate agents and rental agents in the area as well as properties direct from the owners, the best selection of property all in one place.
Featured property for sale

Featured holiday rentals