Almeria markets
Almeria, Andalucia, Southern Spain.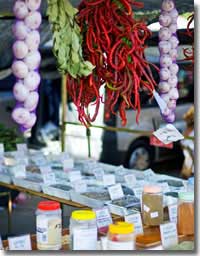 Colourful open air street markets are held in most of the main towns and villages throughout the province of Almeria, frequented by the locals themselves, the bustling stalls offer a real taste of Spanish life and a vibrant atmosphere in which to do a weekly shop.
Choose Almeria for market days
Traditional Spanish markets - one of the best places to appreciate Spains culinary diversity is at the local market...
Stalls include fresh local produce and various products, from useful household items to clothing and fashion accessories. The numerous fruit and vegetable stalls offer the greatest choice, with a tempting selection of seasonal and year round fruits and a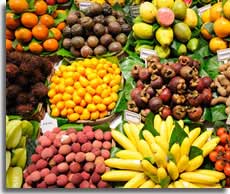 wide range of freshly grown vegetables and herbs. As a rule spices, olives, olive oil, hams, and chorizo, a spicy Spanish sausage, are also likely to be available.
I recommend trying to learn the Spanish words for the fruit, veggies and other items that you may be inclined to request, most phrase books will list them phonetically, pointing and smiling works too but it is much more rewarding to be able to ask for what you want in the language.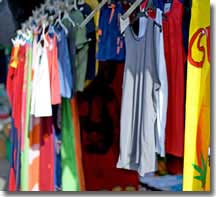 Of course understanding the often rapid reply can be a little more difficult!
Clothing is cheap and can be a little tacky but there are some decent bargains to be found. Ladies wear best buys are in summer clothing, such as cotton sun tops, dresses, shorts and skirts, they won't last forever but offer fashion at knock down prices. For gentlemen there is always a good selection of shorts, shirts and t-shirts, and in general shoes are a good buy for the price.
On certain stalls haggling is accepted, and often expected,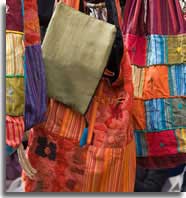 the banter of the stall holder is usually a good indication of whether or not to try to barter. Groceries and household goods are generally a fixed price.
For residents and holiday makers alike a weekly trip to the nearest local market becomes a fundamental part of the lifestyle here.
I am lucky enough to live in a market village and indulge in this weekly ritual.
An important asset for any market goer is the traditional shopping trolley, every serious Spanish shopper has one, they stand upright on two wheels with a handle for easy maneuvering, and annoyingly take up too much space in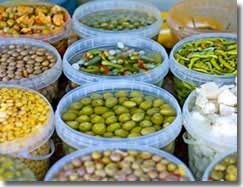 crowded market conditions, but I must confess to owning my own, they are just so convenient for carting my weekly supplies back home and I really feel like part of the community when jostling for space next to the fruit and veg stall.
Markets usually set up early in the morning, ready for service around 9am though it is possible to shop a little earlier than this, ordinarily they close as shoppers dwindle in the heat of the sun, typically at around 1pm.
In the rare event of rain many stalls will not open.
It is worth noting that vehicle access to market streets is restricted on market days.
Many of the smaller villages of Almeria do have some kind of weekly market, often it is a matter of bringing in fresh fruit and vegetables and stalls tend to be limited in numbers consisting of maybe three or four outlets, none the less, they still provide an essential service to many of the more rural pueblos.
Local market days for Almeria towns and villages
Tuesday
Albox
Cuevas del Almanzora
Los Gallardos
Monday
Antas
Berja
Huercal Overa
Thursday
Carboneras
Cuevas del Almanzora
Huercal Overa
Olula del Rio
Sorbas
Wednesday
Bedar
Lubrin
Mojacar
Velez Blanco
Saturday
Arboleas
Tijola
Velez Rubio
Vera
Sunday
La Alfoquia
Villaricos
San Juan de los Terreros - summer only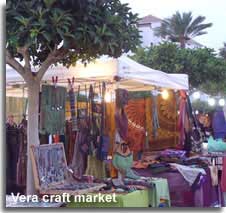 Evening Summer Craft Market
In July and August, Vera Playa is host to a handicraft market which averages about 50 stalls and opens for business from 8pm until late,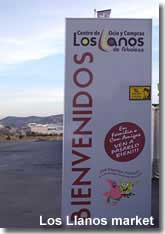 the market is situated near the Hotel Zimbali.
Weekend Market
The Los Llanos purpose built market place is open on Saturdays and Sundays year round, located in the Almanzora valley along the A-334 between Arboleas and Albox. The open air venue is popular with many local expatriates, mainly due to the availability of British products offered by the growing number of expat stall holders.