The mountains of Almeria Province
An introduction to the Sierras of Almeria
Almeria - Andalucia - Southern Spain
SIERRA - A range of mountains with jagged peaks and an irregular outline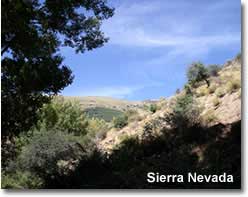 Part of the Systema Betico range of mountains that extends into Almeria from the west, the Sierras of Almeria are widespread and located throughout the whole of the province, all affording unprecedented beauty yet singularly having their own individuality, their contrasting terrains include lush forests, snowy mountain peaks, and arid wilderness shrublands. Some of the Sierras have been declared places of outstanding natural beauty and special areas of protection for wildlife, bird life and plant species, thus having the prestigious status of Natural Park, providing crucial environmental conservation for these wild and unaffected landscapes.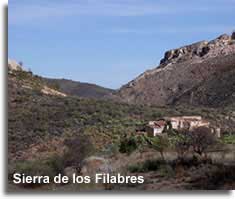 Concealed mountain villages are waiting to be discovered, immersed in reminders of ancient times, offering historical and cultural interactions within surroundings that will overwhelm.
With the demand for rural holidays on the increase, the mountain ranges, natural parks and hillside villages offer the visitor opportunities for a multitude of outdoor pursuits, hiking, cycling, horse riding, rock climbing, skiing and snowboarding, paragliding, nature walking, bird watching, art, photography... and a profound appreciation of the natural world in which we live.
Choose the mountains of Almeria for rural holidays in Spain
Mountain adventures, mountain villages, outdoor persuits, day trips, excursions, nature, wildlife, bird life, scenery...
Map of the mountains of Almeria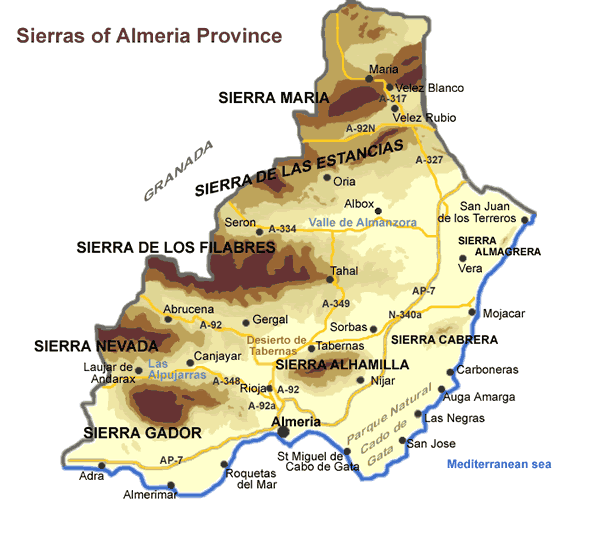 Discover the mountains of Almeria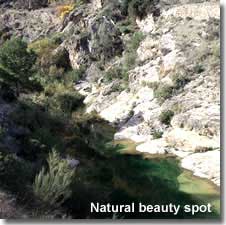 The Sierras of Almeria are special attractions full of surprises, all offering amazing day trips and excursions, each visit can be, exhilarating, thrilling, adventurous, historical, cultural, peaceful, relaxing, rejuvenating... but always rewarding.
Each of the sierras are worthy of and detailed in their own dedicated page, there are links from the sidebar or at the end of this page.
There are innumerable villages and towns situated within the limits of the mountain ranges of Almeria, each with their own special charms, it would be impossible to do them all justice in the pages devoted to the mountains, though there are references to many of them.
It is my intention to gradually visit every town and village within the province of Almeria, including the mountain pueblos, providing details and photos for each one, quite a task and one I have started, yet it will certainly take a little time to complete. I will continually upload the information as I go along and add links where appropriate from the relevant Sierra page.
Remember that the mountains and mountain roads can be dangerous.
Please pay attention to the following advice and recommendations:
Be prepared with suitable clothing, equipment and supplies
Keep to the signposted trails, tracks and roads, and do not travel outside of them
Be careful in areas of ice and snow
Not not enter caves or hollows
Do not visit in times of bad weather, such as fog, heavy snow and strong winds.
Beware of falling rocks
Plan the route and always let somebody know the itinerary and destination
It is a privilege to be able to visit the natural parks and mountains of Almeria, enjoy them but take care to act responsibly for personal safety, the safety of others, and for the environment.
Please pay attention to the following advice and recommendations:
Do not remove plants or rocks and avoid disturbing the animals
Only camp in permitted camping zones
Do not allow dogs to run loose
Do not light any fires
Remove unwanted waste or use the provided bins where available, leaving the area as you would expect to find it.
The Sierras of Almeria
Sierra Alhamilla

Sierra Cabrera

Sierra de las Estancias

Sierra Gador

Sierra Maria

Sierra Nevada

For a person such as myself, with a distinct aversion to heights, I have discovered an amazing affinity with the
Sierras of Almeria, these are wondrous places for those looking for rural destinations and somewhere for new
adventures and experiences.