Lawn Bowling Clubs Almeria
Almeria - Andalucia - Southern Spain
The Levante region of Almeria is home to four lawn bowling clubs in Almeria, this essentially British sport became established here to cater to the desires of the expatriate community. Primarily drawn here by the sunny skies, alluring coastline and spectacular scenery, both full time and semi permanent residents,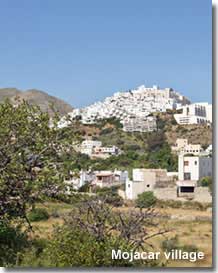 as well as holiday makers, can enjoy their game of bowls in a highly desirable setting.
The stunning Cabrera mountains dominate the landscape along with the enchanting hill top village of Mojacar Pueblo which overlooks the main beach resort of the area, Mojacar Playa. Turre and Los Gallardos, two charming valley pueblos, are the closest inland villages to the bowling clubs, and are a ten and twenty minute drive from the coast respectively.
Choose Almeria for bowling in Spain
Lawn bowling clubs and lawn bowling holidays in Almeria...
Lawn Bowling Clubs
Almeria Lawn Bowling Club
Cabrera Lawn Bowling Club
Indalo Bowling Club
Mojacar Bowls Club
All the four clubs have strong local membership, mainly British, with many experienced bowlers. Beginners are also encouraged, with clubs offering coaching to those looking to try a new interest and some gentle exercise. All of the clubs host regular competitions and participate in league matches. Memberships can be arranged directly with the individual clubs and there are varying options for green fees, including yearly, monthly or temporary affiliations for shorter periods.
Each of the bowling clubs are detailed below with links to their respective websites.
Lawn Bowling holidays
For those looking to pursue the sport of lawn bowling in a warm climate and enticing location......
All the four bowling clubs in the area welcome visiting clubs and touring teams as well as individuals, both beginners and experienced. Below there are details for each club with links to their own websites.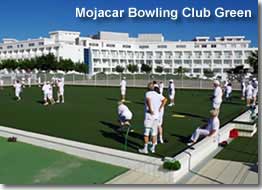 Mojacar Bowls Club
The most recent club to be established in the area, it is located behind the Marina Mar Hotel, in the Marina del la Torre area of Mojacar. The facility is owned by the hotel with the day to day bowls run by club members, an ideal set up as the hotel also offers special deals on bowling holidays and special accommodation rates for visiting bowlers. The green itself has an artificial surface.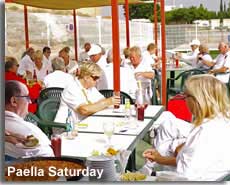 The club facilities include a club office, a bar area from which the hotel staff serve drinks and snack foods, brand new on site toilets and a free dedicated car parking area, a real bonus in this busy holiday resort.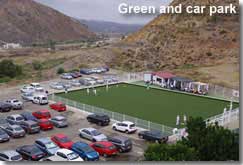 Club Days are Tuesdays, Thursdays and Saturdays meeting at 09.30 am for a 10.00am start.
The club has a companionable atmosphere with regular charity matches and social events such as Paella Saturdays.
External link
Provided to help visitors make the most of the area. The link will open in a separate page.
For further information about the club, the competitions and fixtures calendar, club contacts and their photo gallery, and a guide to bowling for those just starting out, please visit their website Mojacar Bowls Club, the website is available in English.
Indalo Bowling Club
The Indalo Club is situated in the countryside, surrounded by beautiful scenery and about a 15 minute drive from Mojacar.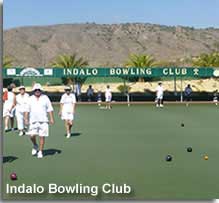 It was built and is wholly owned by the members and has a championship class artificial surface green, the Indalo members are extremely proud of their green and rate it amoung the highest quality in Europe.
The club has over 100 members who range from those wishing to enjoy a friendly game of bowls to those who bowl in serious championships.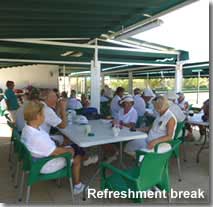 There are regular club mornings and many competitions throughout the year, the competitions can be both internal and locally with other clubs, and they often welcome visiting teams from further afield including the UK and France.
External link
Provided to help visitors make the most of the area. The link will open in a separate page.
For more club news, includind the competitions, a club photo gallery, club contacts and coaching information, please visit their website Indalo Bowling Club, the website is available in English.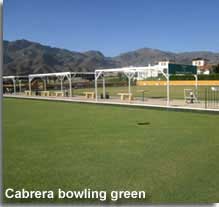 Cabrera Lawn Bowling Club
Located in Turre, 10 minutes drive from Mojacar, the club prides itself on its grass bowling green, members here enjoy both competitive and social bowling, some bowlers like to participate in the club mornings to meet friends, get some light exercise and play a sport that they enjoy, where as other members like to use the club mornings as practice sessions for competition and league matches. There are many bowling clubs in Spain and the club can offer entry to local and national competitions.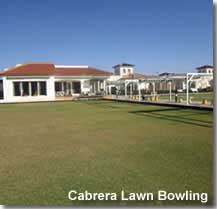 Beginners are welcome with free tuition available from one of their qualified coaches.
External link
Provided to help visitors make the most of the area. The link will open in a separate page.
For more information about the club, and to keep up to date with forthcoming events, please visit their website Cabrera Lawn Bowling Club, the website is available in English.
Almeria Lawn Bowling Club
The club was established in 1996 and is situated within and part of Los Gallardos Camping, an English owned caravan camp site which is located in the Los Gallardos countryside about 15 minutes drive from Mojacar. The club now has over 100 members and welcomes its regulars and visitors alike. Competitions and league matches are all part and parcel and members can enjoy the facilities of the bar and restaurant of the camp site as well as regular social events.
External link
Provided to help visitors make the most of the area. The link will open in a separate page.
For detailed information on the club, membership, the green, and informative competition reports, results and schedules, and club contacts please visit their website Almeria Lawn Bowling Club, the website is available in English.
Club Addresses
Almeria Lawn Bowling Club
Address : Camping Los Gallardos, N-340, Los Gallardos.
Cabrera Lawn Bowling Club
Address : Al Andalus Garden residencial complex, Turre.
Indalo Bowling Club
Address : Cañada de la Piedra, Los Gallardos.
Mojacar Bowls Club
Address : Marina Mar Hotel, Marina del la Torre, Mojacar.

View Map for the locations of the bowling clubs
If you are a member of an existing bowling club, in Almeria, that I am unaware of, or if you are establishing a new bowling club in the province then please use the contact form to get in touch and I will be more than pleased to include the details on this page.
I would love to know how much

you enjoyed your visit to any of the bowling clubs in Almeria, and hope that you will share the highlights with me, perhaps you could even send me a photo or two.
Share with Choose Almeria

I look forward to hearing from you.
I will post your informative, interesting, and suitable recommendations and photos on this page for others to enjoy.
To show appreciation for this page
please give me your Facebook Like
More in Almeria ...
Sierra Cabrera coastal mounatin range

Mojacar pueblo and Mojacar resort

Los Gallardos village

An introduction to the attractions of Almeria province

More reasons to choose Almeria for day trips - holidays - relocation

Choose Almeria property listings

Choose Almeria... for holidays... for ever...

Back to top of page

Home page
Quick links and Internal links are provided for ease of site navigation.
Quick links jump to particular places or specific topics within the same page.
Internal links present a pathway to other pages within the website, usually to those pages which have relevant content or related topics. All these pages can also be reached via the sidebar links and menus.
A sitemap is available in the footer bar of the website, along with the site terms and privacy policy.
External links
The external links in this page have been provided as a source of information with the intention to assist interested parties in making the most of the available resources in the area. These companies are in no way affiliated with Choose Almeria and Choose Almeria takes no responsibility for their services or the information they offer.
Many of the photographs displayed on this website have been taken by myself, however I would like to acknowledge that several of the images have been sourced through the dreamstime.com and istockphoto.com websites, where, along with the individual photographers portfolio, there are many more images of Almeria to be viewed.