Almeria Province guide
Almeria Province, Andalucia, Southern Spain.
About Choose Almeria - Your guide to Almeria from someone who lives here...
A taste of the 'real' Spain, a region filled with tradition and charm, beautiful sandy beaches, dramatic mountain scenery,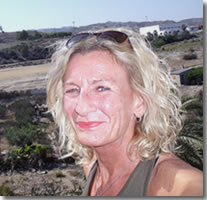 authentic Andalucian villages... and the obvious appeal of year round sunshine.
My name is Linda Barker, I am the author and administrator of the Choose Almeria website, and I live here, in one of Almerias inland villages, and yes I do pinch myself each day in appreciation of just how lucky I am.
I came to discover Almeria when I made the decision to leave the UK, lock, stock, and doggy, with a general plan of relocating to Spain, setting up a little business, and starting a new life in the sun, something that, like many, I had often dreamed of.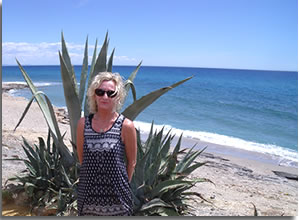 The year of arrival was 2006, in the month of February.
While initially I had been considering some of the more well known 'Costas' for the location of my intended shop I wanted to check out Almeria first as some close friends of mine had already relocated out here in the previous year and were full of the joys of thier new life.
A quick visit to my pals turned into a long stay, I fell in love with this special place and never left, and I am more than pleased to say that Almeria is now my home.
In August 2006 I opened 'La Tienda'(2006-2013), my internet shop, in Los Gallardos village, and soon my new life was starting to take shape.
In the summer of 2008 further aspirations began, I wanted to tell the world about Almeria, and, never one to do things by halves, I started to write both the programming and the content for this website, a task which would occupy all of my spare time over the next few years as I travelled the province and collated the information and the photographs that now fill these pages.
In January 2013, I am so proud to say that Choose Almeria was launched on line...
Moving forward to March 2016, more pages have been added to Choose Almeria, and I now realise that even after living here for ten years there will always be further destinations to explore and share, an ongoing mission...
Furthermore this month was the official inauguration of the Choose Almeria 'Property Portal' and the Choose Almeria 'Business Directory' presenting even more reasons to Choose Almeria and all that is has to offer... for holidays... for ever...
Your local guide to Almeria province
As 'Choose Almeria' I would like to share my appreciation of, and provide information on, this lesser known province of Southern Spain, so whether you are looking for a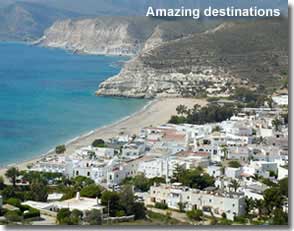 holiday destination, ideas for day trips and excursions, or a place to relocate or retire, Choose Almeria has the means to help you.
Use the menus in the left sidebar to find out if Almeria is the location for your place in the sun. There are links to all the attractions, including the beaches and mountain ranges, the desert of Tabernas, the Cabo de Gata Natural Park and the Almanzora Valley, and a guide to the towns and villages of Almeria including local fiestas. Not surprisingly the fabulous climate encourages outdoor living and recreational sporting interests which are covered in the leisure activities menu and include golfing, walking, horse riding, water sports and even paragliding.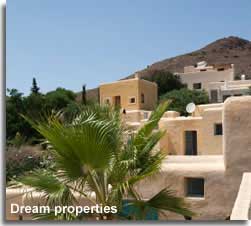 Whatever type of property you envisage Choose Almeria advertises properties from top estate agents and rental agents in the area as well as sale, rental and holiday let properties from the owners direct, so be it a retirement property, or a holiday home, a rural location or frontline beach property, Choose Almeria has the best selection all under one roof.
Featured properties are displayed on the home page, or for specific search criteria use the property search via the left hand sidebar menu and start browsing for your dream property now.
I have toured the length, breadth and coastline of Almeria, climbed the highest mountains and crossed the valleys to bring the highlights of Almeria to these pages, may you enjoy reading all about my travels as much as I enjoyed doing them. Hope you see you here soon.

View Map of the location of Almeria Province in Andalucia, Southern Spain.
To show appreciation for
this website please give
Choose Almeria
your Facebook Like
Choose Almeria property listings

The Choose Almeria website is an ongoing project,
new pages are in development and information is being constantly updated.
Choose Almeria... for holidays... for ever...

Back to top of page
Quick links and Internal links are provided for ease of site navigation.
Quick links jump to particular places or specific topics within the same page.
Internal links present a pathway to other pages within the website, usually to those pages which have relevant content or related topics. All these pages can also be reached via the sidebar links and menus.
A sitemap is available in the footer bar of the website, along with the site terms and privacy policy.
Many of the photographs displayed on this website have been taken by myself, however I would like to acknowledge that several of the images have been sourced through the dreamstime.com and istockphoto.com websites, where, along with the individual photographers portfolio, there are many more images of Almeria to be viewed.